Welcome to the
Antique and Collectible Firearms and Militaria Headquarters
www.FineOldGuns.com
(OldGuns.net)

Bookmark this location now so you can return often.
Marc--- Stormy Mountain Sports L.C. P.O. Box 95021, South Jordan, UT 84095-5021
FAX number (for sending FFL copies only!) 801-923-3555
John--- John Spangler, PO Box 711282, Salt Lake City, UT 84171
Marc does business as Stormy Mountain Sports, and is separate from John who is selling items from his personal collection.
Click here for telephone contact information
Spotlight Item
U.S. WW2 WINCHESTER MODEL 12 TRENCH GUN
Overhauled For Vietnam- Minty!

Click here for more information.
*Note - If you are seeing a picture that does not match the above description,
please clear your browsers cache (try reloading your browser while holding down the shift key).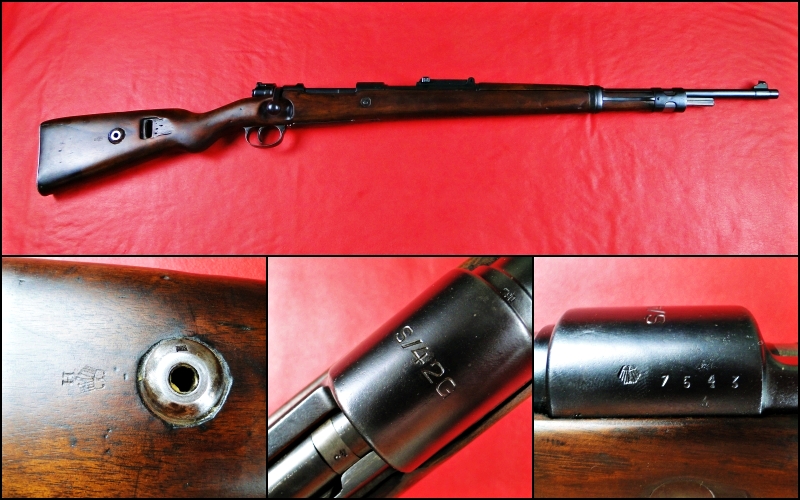 We Buy Gun Parts
Our main interest is in
1903A3, 1917, 1911/1911A1 and other parts for U.S., British and
German military firearms, WWII and older.
News 'n Notes
Defend yourself against the gun grabbers- join the NRA and give NRA memberships as gifts

Liberals in Congress are likely to mount attacks on gun rights as some sort of "crisis" opportunity.
Our best defense is a strong National Rifle Association. We believe that EVERY gun owner should be a member. And their spouses, kids and grand kids.
We highly recommend NRA memberships as great gifts.

---
Miscellaneous Tidbits

Below are some links to various items of information that may be helpful, or at least interesting.
MAKING GUNS IN AFGHANISTAN- We have posted an old article on the hand made guns from the hills of Afghanistan.
This should be of interest to folks with the opportunity to buy guns being sold in the bazaars there. Most of the "antique" guns we have seen brought back by our troops are actually recently made copies. The locals have figured out what sells to the "rich" Americans, and they are busy making them to fill the demand. These are fine souvenirs, but not valuable old collector items, and often worth far less to a collector than our soldiers are paying for them. Take another dose of CAVEAT EMPTOR before getting one of these. On the other hand, a collection of Afghan or "Khyber Pass" copies of guns made elsewhere would be an interesting specialty, even if a lousy investment.
http://www.armscollectors.com/darra/darra.htm
Lots of great gun collector stuff for sale- right here at Oldguns.net.
Don't forget to check the items that have been posted for a while. There are some excellent buys and rare goodies that have been posted for a while but overlooked. See them all right here are at
http://oldguns.net/

---
"It is the curs in the media who cannot stand victory that can defeat us. It is the political hacks who cannot stand victory that can defeat us. American warriors have taken out another threat to our country. I am proud to stand amongst those here."
Lt. Colonel, USMC, (in Iraq) Anyone remember WHY the U.S. was defeated in Vietnam? It was not because of our troops, but the leftist media and spineless politicians. Better keep an eye on them again!
John Spangler
---

---
Visit our Other Great Site.. ArmsCollectors.com
---
Communications
We are often pretty busy traveling, working in storage areas or shipping things.

Please, if at all possible communicate with us by e-mail instead of by phone.
Use the
order blanks
or
e-mail links
throughout our pages to contact us.
Thanks!
John Spangler & Marc Wade
---

www.oldguns.net
Is our address. We welcome visits from all gun collectors and military history enthusiasts. Make sure you add us to your bookmark list.
(Note: Please remember we are" oldguns.NET". We have learned there is another site at "oldguns.COM" but we know you will want to return here, so don't get confused.)
We have had 5755312 visitors to our site since July 5 1996.
There have been 0000167 visitors in the last 24 hours.
Currently there are 2 user/s online.
---

WE BUY GUNS


We also buy gun parts, gun related tools, ammunition for collectors, and other gun items, bayonets, swords, knives, daggers, uniforms, flags, medals, belts, buckles cartridge boxes or belts, and other collectable militaria, gun and military related books. Contact us if you have any of these items for sale. We are interested in single items, collections of any size, or estates. All transactions confidential.

Click here to tell us what you have for sale,
If you don't have e-mail
Click here for telephone contact information.
Note- Please describe each item you are selling, including condition, and the price you are asking.
We can also help you sell your items on consignment, click here for more information.
---
Firearms Questions
Got a firearms question? Maybe we can help.

Submit your question.

Check back for our answer or view the most recent questions and answers. Check our Subject Index for specific topics (someone may have asked already)

Check Monthly Index of previous questions.


---
Haven't ordered from us before? Here are some comments from our customers:
Marc...Received the rifle this afternoon...This rifle is everything you described...What a simple no frill gun...The bore is the best I have seen yet...Some of my friends have said that I spent to much for this rifle, so I went looking...found them ranging from 150 to 500 dollars...but the low end guns were not as nice as this one and of course the high end guns were out of sight.. And you are right when you said "A good representative "Jap rifle" of WW2....So what I am saying is, I don't think I paid too much for this rifle and I will, if the opportunity arises, buy from again...and to go one step further...I would buy from you sight unseen, just on your word alone..and that my friend is a status we would all like to achieve...as my father always to me, a man is only as good as his word.....Pretty good advice...

"Hello Marc, The new addition to my family arrived safely yesterday, and to just say that I am pleased would be an understatement. To know how happy I am, you must know that I have been looking for a rifle in this nice of a condition for a while now. When I first saw it on your web site I knew that it was THE one. But then I had to wait until it arrived to see if it was REALLY as nice as the photos and description portrayed. Unfortunately, as I have found, there are those in your business whose integrity is less than admirable. Not to offend you in any way, but I would not convinced that the rifle would be what you said it would be until I could hold it in my hands. When it arrived I was excited and apprehensive about even pulling it out of the box. Marc, as silly as it sounds, when I unwrapped it and saw how beautiful it was, I danced a little jig around the room (yeah, I know I got a serious problem, but it's fun!!!). When it comes to rifles, I'm definitely a "wood" man, and this one is as nice as any in my collection. In fact, everything about it is as good or better than your description (you don't happen to have another lying around do you?). Anyway, I apologize for the rambling, but sending you a "got the rifle, it's OK" would not express my appreciation. A "new" loyal customer,

" R. S. "The MP40 pouches and Paratrooper smock arrived today. They're great and I'm keeping them. You can tell everyone else they're sold to a happy new owner. Thank you for the nice items and I look forward to doing business with you again.

" Nick "I received my [bayonet] yesterday. It was exactly as you described and I couldn't be more pleased. I will admit I was a little apprehensive about sending a check to someone I didn't know based on a web site catalogue, but you have proven to be a honest and reputable and I am very glad to have met you, through correspondence if nothing else. I'm sure you will be hearing from me in the future.

" Ed "I have visited many web sites offering militaria and antique weapons. Yours is one of the more diverse and user friendly I have encountered....I am sure I will continue to visit quite often.

" Richard "The Enfield arrived yesterday. I couldn't be happier with it. It is in exactly the condition you described, and looks great! Thanks for your honest dealing and quick service. I really do appreciate your accurate description of the merchandise. I've been disappointed so many times when I opened the box of militaria that was ordered sight-unseen that I value honesty when I encounter it. Your photos are helpful, too--and fun to browse through.

" Mike-- "My order arrived on the 13th. I was very pleased with it's contents. What a pleasure it is to find a dealer who knows how to HONESTLY describe things and price them FAIRLY!! Thank you for your service. You find me the goodies I need and we'll be doing lots of business." Joe-- "I received the [W.W.I USMC hat] yesterday. I am extremely pleased with my purchase. It is exactly what you represented and I am pleased to be the new owner. Your word and service has established a high level of credibility with me and I shall, hopefully, be doing more business with you in the future. Thanks so much." Bill -- "You've made a happy customer with me! The musket arrived yesterday - in nicer condition that you described; solidly packed... Please keep me on your mailing list. We'll do business again.

" Don -- "I received the bayonet today. Nice!! From your description & the picture it was what I expected to receive. 'Good work'. I now feel comfortable doing transactions with you. I will now be viewing your classified continually for items for my collection. sincerely," Bill-- "Today I received the two French bayonets that I recently ordered from you. Both arrived in good shape. I just wanted to take this opportunity to thank you for your accurate descriptions of these items, and for your prompt service. So... thanks! I look forward to doing business with you again.

" Jon -- "As was the case with previous orders, the condition of the articles was better than your description. I am extremely pleased. You are absolutely right. This is not the usual "junk" that I encounter at [gun shows in my area.]" Leonard -- "I received my [collector's] ammo today. I must say I am very pleased

" Mike -- "Thanks for the prompt service. What a concept! Here's to more business with you in the future..." Emory -- [We goofed on a description, even though inspection period was long over, we offered a full refund.] "Spoken like a true gentleman, thanks. I appreciate your willingness to make good. This just reinforces my decision to do business with you in the future." Emory -- "I received the Flayderman book yesterday. You were right, it [has] just about everything." Roy -- "THANKS, you really have been a wealth of information. I'll have to 'Bookmark' your site and pass the word around that you really do "serve the collectors and students of firearms and military history"

" Scott --"The Model 1881 Dress Helmet more than met my expectations, thanks, and as I said before, I expect to be a frequent, and happy customer!" Peter--
---
Gun Show Information
Gun shows are excellent opportunities to meet other people who collect and study firearms and their technical, historical, or artistic features. They are great places for collectors to buy, sell, or trade items.
You can find experts to identify or appraise items; and parts or gunsmiths to repair your items. Most shows have books collectors need for reference. A wide variety of accessories and related items are usually available.
Some people with tables at shows are full time dealers, while others are collectors enhancing their collection by selling duplicates and looking for new treasures. Some shows are very large with lots of excellent items, some are small with very few good items. You never know what you will find, or who might be interested in something. Some people (with or without tables) are ignorant or misinformed about items they have. Others may be nationally recognized experts. Don't judge by people's appearances. The guy or gal in blue jeans may be a doctor, lawyer, bank president, wealthy rancher/farmer, or someone in the construction trades, but may also be an expert in a certain field. Collecting interests and expertise are spread across a diverse base of economic and cultural backgrounds.
Promoters insist all federal, state and local laws concerning sales of firearms must be obeyed at gun shows. Many shows offer free admission to uniformed law enforcement officers. Entire families attend most shows. There are often antiques or other items that spouses might be interested in. Food is usually available, and there are some seats around in case anyone ever gets tired of looking at the interesting things on the tables.
Go to a show. You will probably have a good time.
---


The MilitariaWebring.com site is sponsored by WorldMilitaria.com.
[ Previous 5 Sites | Previous | Next | Next 5 Sites | Random Site | List Sites ]
---